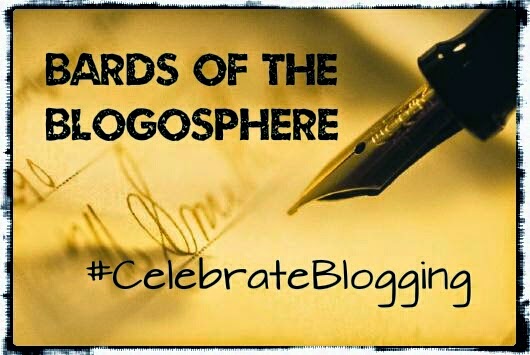 N.B. - This is the ninth chapter in the 'Game of Blogs' by the team 'Bards of the Blogosphere'. #CelebrateBlogging
Read the previous chapter (8)
Here
"Not bad Jenny, you're doing wonderful!" Jennifer patted her own back. "Now you have actually crossed the guest zone and entered into the family zone. They have started asking you for petty household errands. Good for you for you are so close to your destination." She chuckled in her mind. "Tonight…"
"All this means she's a kidnapper. She wants to take our princess away from us. How dare she even think of this? I would kill her", said an agitated Tara. "Tara, calm down. Since morning, we are stuck at the same discussion. You did not go to office today and neither did Roohi go to school. This is not going anywhere. We should call the police."
On facing a crisis, Shekhar and Tara switched positions. Sweet and gullible stay-home-dad turned into 'My Daddy Strongest' and street-smart media person mom became an emotionally vulnerable mother. "Police! Shekhar, you remember how much they frightened my girl last time they came home."
"Yes Tara, our decision to keep the police away from Roohi was correct indeed. Moreover, we do not have any substantial proof and they would not arrest Jennifer straightaway. But, I can think of a friend who can help us. Remember Subroto, my friend who is in police. I came to know through Facebook that he's here in Mumbai. We can take his help offline. Meanwhile, we need to think of a temporary and immediate solution in order to keep Roohi safe."
"Yes, let's go to some other city for some days, Shekhar."
"But Tara, what about your office?" Shekhar was confused.
"My job can wait but it's our daughter who needs to be protected from a woman who is living with us in the very same house. It's all my fault. I mistook devil for an angel." Tara broke down.
"It's ok darling, I am equally responsible. We would do as you say. Let's get ready. We would leave tonight only. Let me talk to my travel agent." Shekhar tried to comfort Tara by pulling her into his arms. Tara, who was in a state of anxiety and bewilderment since morning, found some solace. As she drew close to Shekhar's heart and felt relaxed, both of them thought of the same name, "Roohi?"
Jennifer had a spare key to the flat. She could hardly manage to take it out of the bag. Her hands were full. In one, she had a Barbie from the latest collection, a very pretty pink frock with beautiful frills and in the other hand she had Ferrero Rocher chocolates and chocolate pastries. Pink was her favorite color. Almost every Sunday she asked her mom to dress her in pink frock. Even her Barbie wore prink frock. She loved her Barbie so much. She used to take it everywhere she went except school. It was her best friend. Her mom would get so irritated to see her playing with her Barbie entire weekend. She would try to hide it but Jenny would find it and tease her mom holding it to her face. She suppressed her smile, "Focus on business, Jenny." When she came inside, it was dark. No one had turned the lights on that day. Jenny found Tara and Shekhar's room locked from inside. "Poor couple, they don't get time for each other. They are lucky to find me and I am lucky to find Roohi." She saw Roohi's room was open. She was in deep slumber.
Jennifer went inside and inspected Roohi from head to toe. She felt something was strange since morning. Roohi was not the usual chirpy girl she had known. "She ran away from me in the morning and was not even talking to me. Was it some nightmare, mood swings or is there any possibility that….. No…it's not possible. I did everything right. I met the Duttas pretending to be some Caroline's mother attending the function, met them again for lunch, met Roohi at school after her kidnapping attempt, entered her house, and spent quality time with her trying to befriend her. I don't think I gave them any clue of my hidden intentions. But Roohi had an expression as if she was afraid, as afraid as I was when..... No jenny, you must focus. Just a last step and you would be closer to your goal."
She placed her hand on Roohi's forehead. For a moment Roohi thought it's Tara. She held Jennifer's hands and kissed them. When she opened her eyes and found out it's Jennifer instead, she jumped to the far edge of the bed.
Jennifer was startled. "What's troubling her?" she thought. "Roohi sweetheart, you are a good girl. Look what are you doing to the pillows. Come here. Aunty has brought a lot of gifts for you." Roohi wanted to scream out loudly but was too shocked. Instead, she let a tear drop trickle down her cheek. Jennifer climbed up the bed and cupped her hands around Roohi's cheeks. "Princess, what happened?" Roohi was shivering as if under some fit - first that fateful day at Kochi, then an attempt to kidnap her and today, her assaulter sitting with her on the same bed. It was too much for a kid to intake.
Suddenly, someone snatched Roohi from Jennifer's hands. Jennifer turned and found Roohi resting her head on Shekhar's shoulder. Her hands were clutching his polo's collars and her legs were twined around his waist. Tara panicked and in an adrenaline rush, she slapped Jennifer. "How dare you hurt my Roohi? What do you want? Money? How do you call yourself a woman?"
But Jennifer was not listening. Her success, pride and anxiety turned into defeat, desperation and fear - fear of a dark future. One day, she slapped a boy who tried to snatch her self-confidence. Today, a mother slapped her because she was trying to steal away her daughter. It was her karma following her. "What did you say? Power of evil? Suits you!" her conscience cried out. In reply, she just mumbled, "I am not a kidnapper. I don't want to hurt her. You have to understand. She's the only one who can save Cyrus."